Services
We offer services and treatment plans tailored to meet your unique hearing needs. From comprehensive evaluations to custom hearing aid fittings, our staff combines years of experience with state-of-the-art technology to find the best solution for you.
Hearing Tests
Hearing Testing and Evaluations
Choosing the right hearing aid starts with a clear understanding of your unique hearing loss needs. Our advanced testing procedures accurately identify whether or not you have hearing loss and measure the type and severity.
Not everyone needs hearing devices.  Our goal is to assess where and how often your communication problems occur and determine the best treatment options to solve these areas of concern.  
More on Communication Needs Assessment
If you suspect a hearing issue, a hearing test is your first step. It will determine if you have hearing loss and outline the extent and specifics. Your provider will use this information to tailor a treatment plan to your needs and get you on the path to better hearing.
More on Hearing Evaluations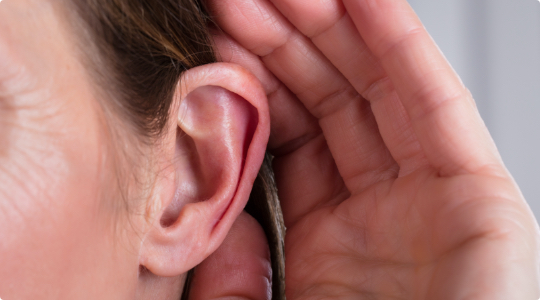 Online Hearing Test
Think You Might Have Hearing Loss?
Take our free, 5-minute online test to get a better understanding of your hearing health. It can determine if a professional screening is right for you.
Our Process
Finding the Perfect Match.
Hearing loss looks different for everyone, and as a result, there are a number of hearing aid varieties on the market. Through careful evaluations and custom fittings, we'll help you find the best device for your hearing loss needs.
Hearing Aid Services
We Service Your Devices
From hearing aid screening, selection and fittings, to ongoing maintenance and repairs – we offer a wide range of services to keep your hearing aids performing their best.
Once we determine that no medical treatment is indicated to improve your hearing or the health of your ears, we can discuss the various styles of hearing aids available. Since your hearing loss affects your spouse and other family members, we welcome them to join in the discussion.
More on Hearing Aid Consultation
Fitting hearing aids takes time to ensure the settings are tailored specifically to each patient's needs. We first confirm the physical fit and comfort of the hearing aids. We teach the patient how to insert and remove the devices, clean them, and replace the batteries so they feel confident handling them.
More on Hearing Aid Fittings
We encourage our patients to come in every four to six months for us to clean and check their hearing aids. This ensures the aids are working well and allows us to address any concerns such as wax buildup or moisture issues.
More on Hearing Aid Maintenance
Life happens, and wear and tear on your hearing aids is normal. If your device isn't functioning properly, bring them in to have them assessed. Whether it's physical damage or aging parts, your provider can address the issue and get you back to better hearing.
More on Hearing Aid Repairs